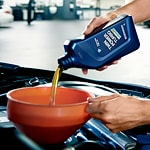 BMW owners strive to maintain their vehicles in optimal working conditions. Our Medford BMW facility technicians are on hand to ensure your vehicle receives comprehensive service and maintenance when needed. Our specially trained and experienced staff install original BMW parts.
When you need a BMW serviced, our team ensures you get quality service at competitive prices regardless of the vehicle's age or the miles displayed on the odometer. The professional care we provide is meant to keep your vehicle performing for years to come. Statistics indicate that there are more than 300,000 BMW vehicles on the road boasting more than two decades of age.
The many services our facility and staff of technicians provide include routine oil and filter changes, battery replacements and collision repairs. BMW owners also have the opportunity to extend the life of their warranty while saving money by choosing to protect the vehicle with a comprehensive care plan.