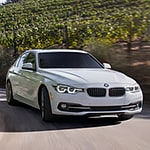 If you are looking for a smooth-driving luxury sedan with a long history of excellence, then look no further than the BMW 3 Series. This automobile has all the bells and whistles along with the comfort and drivability you expect from BMW. We here at Medford BMW in Medford, OR want to highlight a couple of the main features of the BMW 3 Series.
One of the things you will enjoy most about the BMW 3 Series is driving it. The model comes with a range of engine sizes, including a plug-in hybrid, that all provide you with plenty of power and good fuel economy. The car also has very good handling thanks to its low center of gravity and high-quality suspension.
Those wanting a luxury car like the BMW 3 Series also want comfort, and this vehicle does not disappoint. Inside the cabin, you'll find leather seats and a full suite of electronic technology to assist you.